The first match of T20 series of 3 matches between Pakistan and World XI will be played today in Lahore.
Indian fans troll Pakistani fans and vice versa. There's never an end to this cricketing episode. There are several examples of social media trolls that go viral. But nothing can beat this one, where an Indian fan got trolled by the ICC for attempting to troll his Pakistani counterpart.
The first match t20 series 3 matches pakistana World XI will be played today in Lahore, Pakistan. All the preparations have done. Near about after 8 years, an international cricket match series will take place in Pakistan today. People of Pakistan are enthusiastic and seems very excited. The effect is also visible on social media. Fans are celebrating while doing various funny comments and trolling neighbouring country India on social media.
ICC posted an update on its Facebook wall on the women's world cup match between Pakistan and West Indies, where the Caribbean side had posted an imposing total of 285 for 4.
The team World XI includes the best cricketers from different countries. The captain of the teams is South Africa's Faf du Plessis. The team reached Lahore on Monday under tight security. Paramilitary Rangers and Commandos take the responsibility of the security of the World XI team. As the team landed at the Lahore Airport, the team was taken to the 5-Star hotel directly on mall road during which the traffic was stopped.
Immediately sensing an opportunity to take a sly dig at Pakistan, the Indian fan wrote, "Dear ICC…. Stop These Pakistan team to invite in WC bcz they still don't deserve it"
Following which, the ICC replied with this wacky comment: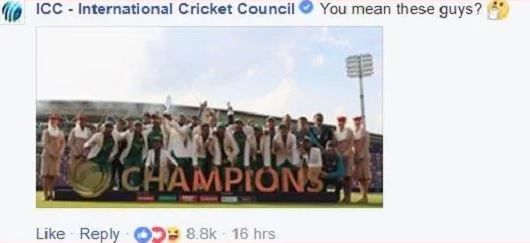 This has probably never happened in the past where the ICC has had to intervene and troll someone. This is clearly a first!
For the three-match T-20 series against Pakistan, the ICC has given the captaincy of the World XI team to South Africa's Faf du Plessis. Team World XI includes 5 cricketers from South Africa's, 3 from Australia's, 2 from West Indies' and 1 each from Sri Lanka, Bangladesh, England and New Zealand.
After the terrorist attack on Sri Lanka's cricket team in the year 2009 in Pakistan, it is the biggest series to take place in Pakistan. Since then, no major team has played in Pakistan till now. The remaining two T20 matches between the World XI and Pakistan will be held on 13 and 15 September in Lahore's Gaddafi Stadium.